Figs and Rouge's Vegan Friendly range is oh so pretty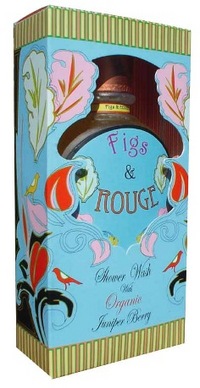 Our friends at Hippy Shopper have alerted us to the possibility of the greenest luxury shower wash ever? However hard you look, there are absolutely no hidden nasties in the decadent new Figs and Rouge range, which is not only vegan, 100% organic and paraben-free; it's presented in beautiful vintage packaging, too. The 'Dig for Moisture' range includes shower, bath, hair and body products.
Inspired by traditional English garden aromas, these products will flood your bathroom with the scent of fresh flowers. Pictured here is -- the juniper berry shower wash; wonderfully fragrant and double concentrate, so a little goes a long way! Anything else to say? Oh, none of these products are tested on animals either. £6.94 at Tree House Blue.
Like that? Try this: PUCCI Spring Vivara Pouch With Shower Gel